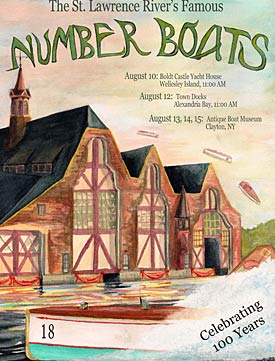 August 10th 2010 marks 100 years to the day of the first official T.I. One Design race. We are starting off our celebration in the Boldt Castle Yacht House at 11am with an illustrated lecture. Number 3 will be on display in the yacht house. Number 18, Night Rider, and the two new boats #21 & #22 will be in the water at the docks or running in the bay. Following a short question and answer session will be a picnic cruise down river to some of the old Summer places where these boats lived including a stop at Singer Castle. A short tour of Chippewa Bay will end at Wyanoke for a look at Allan Newell's boathouse and for cocktails.
On Thursday August 12th at 11am the Number Boats will gather at the public docks in Alexandria Bay. At noon the three race-boats and a small spectator fleet of other early boats will head out to the bay behind Boldt Castle to recreate a scene of motor boat racing in 1910. This will be a great photo-op and will be videotaped for future broadcast. We may move this gathering to a second location if we need more room for high speed runs. Top speed will be 30mph. After lunch in a local eatery we will join up with a cruise from the Antique Boat Museum's Race Boat Regatta that will be coming around Wellesley Island and will tour with them upriver to reach Clayton in time for a Speed Boys party at St. Lawrence Restoration.
On Friday, Saturday and Sunday the Number Boats will partisipate with all vintages of boats at the Race Boat Regatta at the Antique Boat Museum.
Poster design by April Costa
Holly Pastula, Charles D. Mower's grandaughter, recently sent us this photo of Mr. Mower.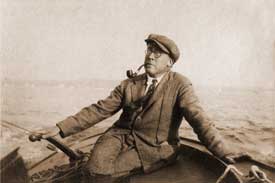 The new Number Boat is a modern gentleman's launch, elegant and fuel efficient, quiet and smooth running, wonderful for conversation and touring. A boat for the captain who wants the beauty of a traditional long deck launch combined with the reliability of a strong fiberglass hull and modern power plant. The deck and interior are varnished solid mahogany and Spanish cedar, upholstery is of soft leather and the engine a Marine Power 4 cylinder 140hp. Top speed is about 30mph.

The 1909 design by Charles D. Mower was intended as a fast racing boat that could also serve as a family runabout on the St. Lawrence River. The original twenty boats were built by the Leyare Boat Works in Ogdensburg and sold on a subscription basis, each boat given a number in the order purchased. These numbers were painted large on the topside at the bow so the boats could be easily identified while racing. Over the years these boats became known locally as the "Number Boats".

August 2010 will be the 100th anniversary of the first official races for the T.I. One-Design. It is our intention to recreate a race on the old courses with as many of the original Leyare built one-design boats as can be enticed to attend. At present we know of six of the original boats that might be capable of running and one wreck awaiting a total rebuild. There may be more of them out there disguised as fishing smacks or work boats. Maybe a little publicity will bring them to light. Along with the new boats we could provide quite a spectacle. Hopefully the Thousand Islands Yacht Club and the Chippewa Yacht Club in conjunction with the Antique Boat Museum and the A.P.B.A.'s biannual Race Boat Regatta in Clayton will sanction the event on the St Lawrence River.

The Everett Boat Works is a small enterprise located in an 1850's dairy barn in St. Lawrence County. We have been building and restoring wooden boats since the beginning of the wooden boat revival in the early 70s - for nearly thirty-six years. Inspired by Atwood Manley's book on J. H. Rushton, just like folk music, we started building Rushton canoes. We have worked on Adirondack guide-boats, St. Lawrence skiffs, early motor boats, Alden sail boats and vintage race boats, any thing wood that we could fit in the barn.

The Number Boat project began with engineer Bob Cox, owner of Ft. Lauderdale Marine and co-founder of the Antique Boat Museum in Clayton, NY. Bob thought some of his customers might like a quiet and elegant way to travel back and forth to their yacht club on the intercoastal canals. We both shared an interest in the early smooth running motor boat hulls. Bob engaged Northend Composites to build a mould and to make the first hull. He then engaged the Everett Boat Works to install the engine and put in the traditional deck and interior. At present we have completed two in the Number Boat series. # 21 Bob is keeping and #22 is available for sale. The hull for # 23 is in the loft awaiting deck and interior. The new boat could be an electric launch or even a fuel cell.

Bare hulls are also available to individuals wishing to complete their own launches. The fiberglass foamcore hulls are made by Shaw Yachts in Rockland, ME. They each have two bulkheads and a two inch wide tab running along the inside at the sheer, set at the appropriate camber to facilitate installation of deck beams. Specific hull lam description available on request.